Cooperating with leading experts on archival and damaged documents preservation, our engineers designed special equipment - a multipurpose vacuum chamber.
The multipurpose design of the vacuum chamber resulted from an analysis of well-known drying processes, numerical simulations and temperature and humidity distribution modelling. The project was presented at the international CASLIN 2003 conference. The development and design of this chamber was financed by the American A. W. Mellon Foundation as part of the international project for preserving damaged documents after the floods in the Czech Republic in 2002. The chamber was put into operation in August 2006.
It is the world unique, which significantly contributed to the preservation of valuable documents damaged during the catastrophic floods in 2002. In one equipment, the restorers can dry, disinfect and post-acclimatize wide variety of documents (paper, volumes, books, wood, leather, etc.) using all known and commonly used methods of drying. The chamber is used by the National Library of the Czech Republic and other institutions. In this way, several thousand documents were restored.
Based on a long-term service contract, KOHOUT engineering s.r.o. ensures the technical operation and further development of the equipment.
The chamber is currently the most perfect equipment for mass preserving flooded documents in the world.
Based on years of experience in the development, operation and servicing this technology we are able to offer device designing and production according to specific customer's requirements.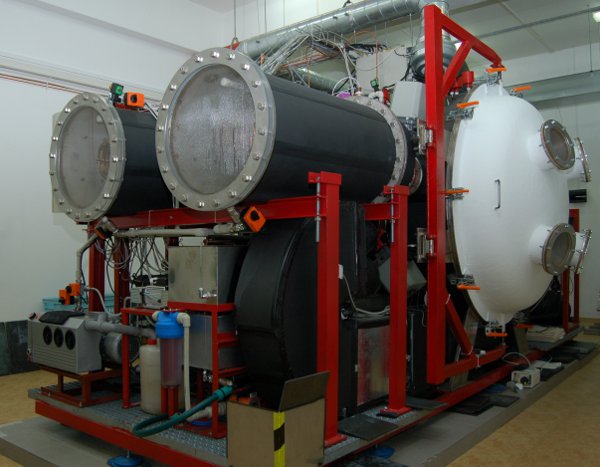 Some interesting issues:
• More than 9600 books went through this drying proceeding and was saved for next generations.
• The oldest book had originated from the middle of the 18th century.
• The biggest book had sizes of 480 x 380 x 100 mm and a weight of 15 kg.
• The smallest book had sizes of 100 x 70 x 10 mm and a weight of 60 g.
• More than 400 books were hand written.
• More than 1 100 books was leather binded.
• The drying chamber had recently successfully dried 500 precious historical drawings from the National technical Museum in Prague, sized 1820 x 1200 mm.
• The drying chamber can be successfully used for the rescue of statues, furniture and other wooden objects being seized by wooden insects.